Our expertise
Cryptoasset firms' registration applications with the FCA are complex and any firm applying to carry out cryptoasset activities in the UK must be conscious that completing an application requires adequate resourcing and planning.
As a starting point firms are required to establish if they will be carrying out relevant cryptoassets activities by way of business, as per the scope defined in Regulation 14A of the MLRs. This in itself is not always straightforward as not all business models are the same and it may not always be clear how the relevant requirements and guidance might apply. Our experienced team can help you to review the nature of your products and services, applicable regulations and help you determine the best course of action.
Once established, we can provide support with the application process in which we have build a unique insight of the regulator's main expectations for cryptoasset services providers through a number of successful applications.
Cosegic is a Community Member of CryptoUK

FCA authorisations and application services
Our dedicated team can support Cryptoasset firms with all aspects of their compliance.
A guide to successful FCA applications for cryptoasset firms
The FCA is currently applying tough standards at the application gateway for cryptoasset firms, with applications for registration being rejected in cases where they do not include the key components which are required by the FCA to carry out their assessment. Applications are also being rejected due to the poor quality of the information submitted, as this is an indication to the FCA, of the applicant firm not being "ready, willing and organised".
To address this, the FCA published some feedback on what constitutes a good quality application versus a poor quality application. This whitepaper offers a deeper review of the feedback in the context of the different stages of an application and requirements, to provide a valuable insight as to what is required to increase the chances of submitting a successful application to the FCA.
DOWNLOAD THE WHITEPAPER HERE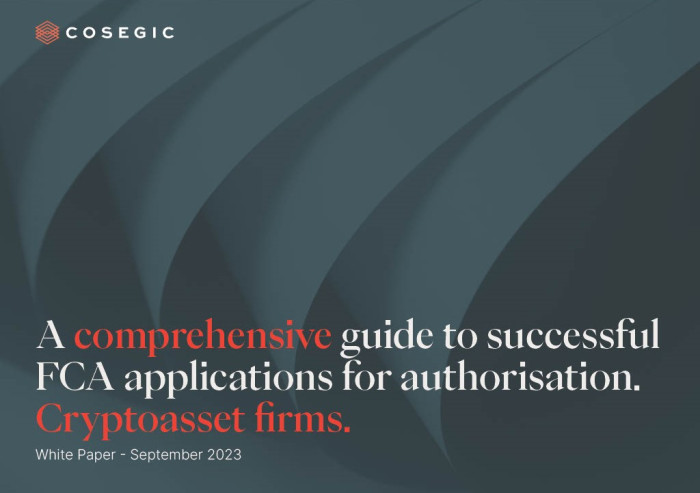 Ongoing compliance support and regulatory projects
Why choose Cosegic?
Our 360 degree perspective of regulatory affairs
01
Our 360 degree perspective of regulatory affairs
Our wide range of financial sector experts come together on a regular basis to discuss their interactions with the FCA and the regulatory trends that they are seeing, providing us with a more informed understanding of the FCA than our competitors.
Direct, proportionate advice
02
Direct, proportionate advice
Our unique perspective means we really do have our fingers on the pulse of regulation, which helps us to ensure that the advice we offer is practical, helpful and directly proportionate to our clients' needs.
Our understanding of the role of compliance in firms
03
Our understanding of the role of compliance in firms
We have watched the evolution of compliance over the past twenty years and understand that compliance must now become a core part of how financial services carry out their businesses in order for them to be successful.
Compliance confidence for visionary growth
04
Compliance confidence for visionary growth
In recognising this, our services have been built in a way that can help you navigate regulation ensuring you will keep your vision and objectives intact. Our breadth of experience allows us to balance your business objectives with your compliance requirements.
We're experts in our field
David is a Senior Consultant within our Payment Services team. He is responsible for the delivery of consultancy services and specialises in supporting firms with their FCA authorisations, AML registrations and the management of their ongoing compliance obligations. In addition to his knowledge of the payment services sector, David also has an avid interest in cryptoassets and represents Cosegic in our membership with CryptoUK.
CONTACT DAVID