Our team strives to deliver the best service to our clients, so we are delighted to have been recognised by different award providers, over a number of different categories.
Compliance Register Platinum Awards
The Compliance Register Platinum Awards® have been running since 2003 and celebrate the achievements of firms and individuals who demonstrate exemplary service to Compliance and Regulation. The awards are judged by the independent body ACE (The Academy of Compliance Excellence) based on client nominations and are fiercely contested by some of the largest financial services, law, recruitment and compliance consultancy firms.
Winner:
2023 - Outstanding Firm of the Year
2023 - Best Consultancy - Regulatory Advice
2023 - Best Support Services - Meeting Regulatory Requirements
2023 - Best Services Team - Consultancy & Law Firms
Individual Awards:
2023 - Hall of Fame Lifetime Achievement Award - John Burns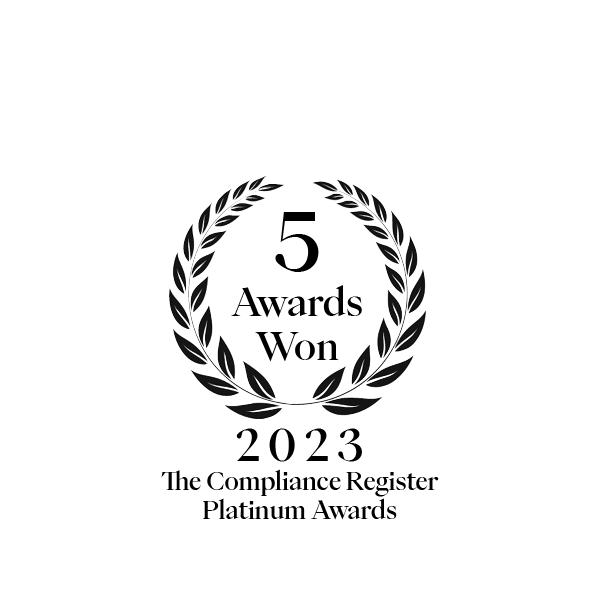 HFM European Services Awards 2023
The With Intelligence HFM European Services Awards recognise and reward hedge fund service providers who demonstrate exceptional client service, innovative product development and strong and sustainable business growth.
The rigorous judging process, based on the views of a panel of leading hedge fund COOs, CFOs, CCOs, GCs and CTOs, ensures that the Awards stand out from the crowd as the ones the big providers really want to win, and recognise those driving up service standards across the sector.
Winner:
2023 -

Best advisory firm, client service
Finalist:
2023 - Best advisory firm, regulatory and compliance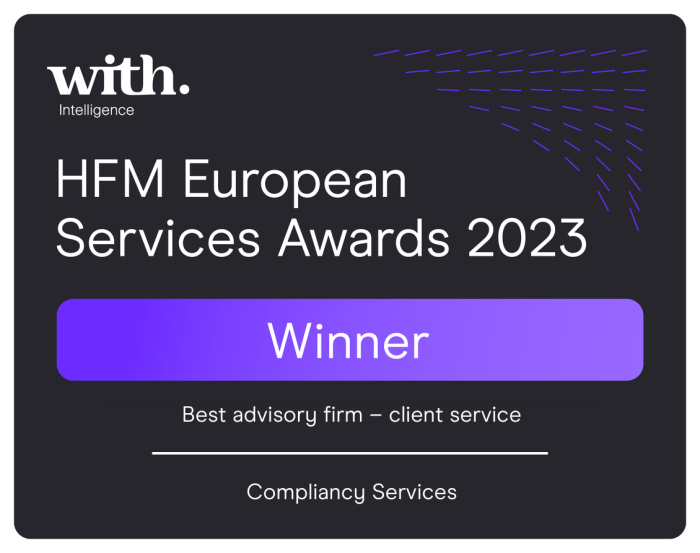 ICA Compliance Awards, Europe 2023
The ICA Compliance Awards Europe recognise and celebrate the outstanding achievements, innovation and collaboration in financial crime and regulatory compliance. It is the UK's only awards that recognises teams and individuals across the compliance community. Entering the awards shines a light on internal compliance teams and their industry partners, who go over and above to raise compliance standards across Europe.
2023 - Finalist, Compliance Consulting Firm of the Year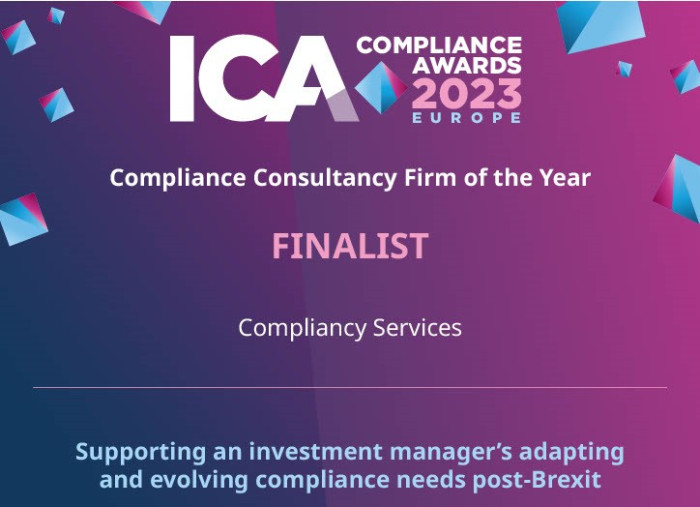 Previous Compliance Register Platinum Awards
2019 - Most innovative FinTech/RegTech firm
2019- Best Compliance Consultant, John Burns
2019 - Rising Star of the Year, Matthew Baxter
2018 - Best Consultancy/Law Firm - Payment Services
2018 - Most Effective FinTech/RegTech Firm
2017 - Best Consultancy/Law Firm – FCA/PRA Authorisations
2015 – Most Innovative Consultancy/Law Firm